This post has been viewed 6455 times
.
Printable Version
Email to a Friend
Subscribe: Email, RSS
~ The God Hole ~
Posted by: admin on Sat, Aug 21, 2010
from Minister Lynn
~ The God Hole ~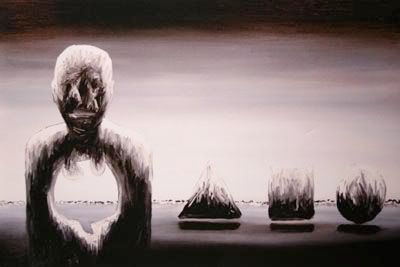 There's a hole in each man's heart
That we're longing so to fill.
But into it such frivolous things
We constantly tend to spill.

Fame and fortune, wealth and youth;
They never are enough...
Possessions costly we hold so dear...
Meaningless, unfulfilling stuff...

Until, in frustration and futility,
We seek the answer to this need...
And find ourselves in tears of regret...
Down upon our knees.

In our desperation and in grief
There we call out to the Lord...
And we hear Him calling back...
And, finally, we heed His Word.

This Hole that's there within our heart
Suddenly fills with Truth and Light...
And is filled to overflowing
With His Joy and delight!

That Hole that was constantly leaking out
Things that were not in His plan...
Now is filled with His Love and Grace...
And then we understand...

This Hole that was in our heart...
The one that was empty and void within,
Is a God shaped hole that cannot be filled
By things that come from men!

It can only be filled to the rim & sealed
By a supernatural Love and Grace..
And we shall never want of 'things' of earth
Once His Glory has filled that space...

© October 1, 2010
By Pastor Lynn

~I am whom I am but by the AMAZING grace of God! To Him be ALL the PRAISE, HONOR, & GLORY...FOREVER!~

Matthew 6:32-34 (King James Version)

32(For after all these things do the Gentiles seek:) for your heavenly Father knoweth that ye have need of all these things.

33But seek ye first the kingdom of God, and his righteousness; and all these things shall be added unto you.

34Take therefore no thought for the morrow: for the morrow shall take thought for the things of itself. Sufficient unto the day is the evil thereof.

By Just4Jesus
© 2010 Just4Jesus (All rights reserved)
You must first create an account to post.