This post has been viewed 6046 times
.
Printable Version
Email to a Friend
Subscribe: Email, RSS
THE RACE
Posted by: admin on Sun, Oct 31, 2010
A POEM BY LYNN KING
~ The Race ~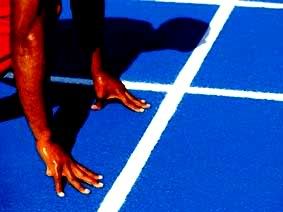 Here I stand on the starting line,
My heart speeding in my chest...
Wondering if I have what it takes...
Will I run my best?

Will I be slow upon my start
And lag so far behind?
Will I stumble, will I fall?
Will I, myself in last place find?

Will I, in haste, start out too soon,
Before the firing of the gun?
Will I be disqualified
Before the race is e'en begun?

Will I grow weary on my way,
And be forced to stop and rest?
Will I press on, come what may?
Will I pass the test?

If my gate is slow...so slow...
Will it still be strong and sure?
Will I hold on till the finish line?
Will my faith endure?

Will I keep focus 'long the way,
And will I win the prize?
Can I keep the Greater Calling
In front of my heart's eyes?

Our lives are a marathon,
We each must run our own race...
And our faith will determine
If we come in first place!

So, keep trudging on e'en though
You may feel like giving in...
It isn't how fast you run the race...
That decides if you will win!

It's if you give your all
And if you do your very best...
That decides if you cross that finish line...
And if you pass your life's test!

© October 29, 2010


By Pastor Lynn

Philippians 3:13-15 (King James Version)

13Brethren, I count not myself to have apprehended: but this one thing I do, forgetting those things which are behind, and reaching forth unto those things which are before,

14I press toward the mark for the prize of the high calling of God in Christ Jesus.

15Let us therefore, as many as be perfect, be thus minded: and if in any thing ye be otherwise minded, God shall reveal even this unto you.

~ I am whom I am but through the AMAZING GRACE of God! I am but His conduit. To God be ALL the Praise, Honor & GLORY...FOREVER!~
By Just4Jesus
© 2010 Just4Jesus (All rights reserved)
No messages have been posted.
You must first create an account to post.